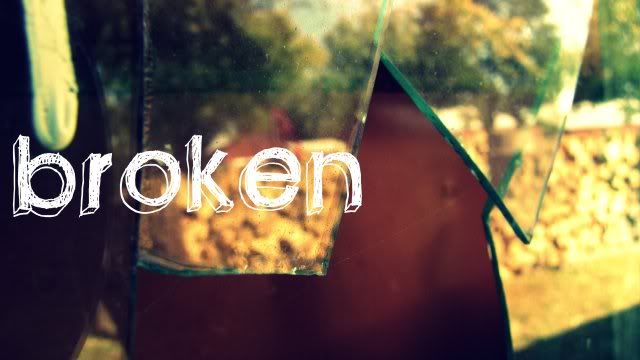 Have you ever just wanted to fix something that is just un-fixable? Sometimes I get so frustrated with this world. There is so much hurt, so much pain, so many things that are broken and can't be fixed. I wonder why we are even here? What's the point? Will life always be like this? Children who don't have parents who love them, women who are abused by their husbands, abortion, exploitation, broken marriages, people who have no regard for life, people who are just hurting. It is so sad to see such awful things in this world.
I've been really frustrated this week. Frustrated with all the sin and pain in this world. But a song came to my mind that filled me with peace and hope.
There Will Be A Day by Jeremy Camp
//I try to hold on to this world with everything I have
But I feel the weight of what it brings, and the hurt that tries to grab
The many trials that seem to never end, His word declares this truth
That we will enter in this rest with wonders anew
But I hold on to this hope and the promise that He brings
That there will be a place with no more suffering
There will be a day with no more tears
No more pain, and no more fears
There will be a day when the burdens of this place
Will be no more, we'll see Jesus face to face
But until that day, we'll hold on to you always//
You see, I can't hold on to this world. This isn't all there is. But you know what the totally incredible thing is? There will be a day, with no more tears, no more pain, and no more fears. A day when we will see Jesus Christ, in all His glory, face to face. Our life on this earth will always be full of imperfections and pain, but we have something marvelous and perfect to look forward to: Heaven. That is a promise I will forever hold onto... a promise that gives me hope and joy every single day. Until that day when I see Christ, I will fix my eyes on Him, and the glorious place that awaits me in Heaven.
Psalm 147:3
He heals the brokenhearted
and binds up their wounds.
In His Love,
Jessica