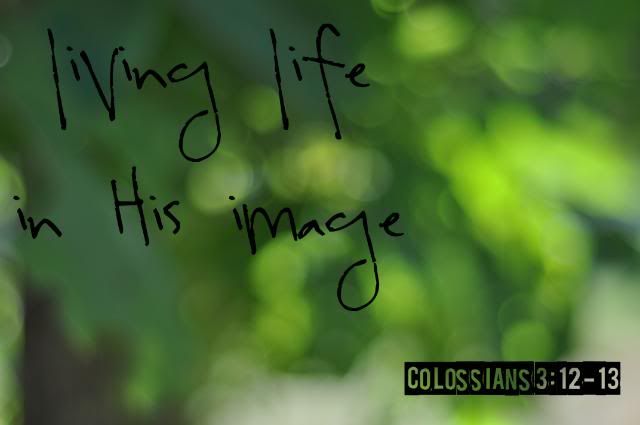 Let's just be honest here, it is not easy being kind and patient at all times.
In fact, usually it is downright hard. Sometimes every little thing seems to bug me and it is so difficult not totally freak out on someone (usually my siblings). Today was definitely one of those days where being a smiling, patient, kind person was not happening so easily. I finally just had to go to my room and give it to God. As I was flipping through my Bible trying to calm down, I came across these verses in Colossians:


Colossians 3:12-13 (English Standard Version)
Put on then, as God's chosen ones, holy and beloved, compassionate hearts, kindness, humility, meekness, and patience, bearing with one another and, if one has a complaint against another, forgiving each other; as the Lord has forgiven you, so you also must forgive.
As God's chosen one, I have to choose to put on the things that reflect Christ. I have to choose to be compassionate, kind, and humble. I have to think selflessly and be patient, even when that is the last thing I want to do. Living a life that is a sweet reflection of Christ Jesus is not easy. There is no such thing as a super Christian who doesn't daily have to surrender to Christ. We all struggle, we all are tempted, and we all have to decide to do the right thing. The incredible thing is that we
can
do the right thing with Christ! He will give us the strength and the power to face whatever comes our way. We can live as a radiant light for Christ, if only we will move ourselves out of the way and allow Him to take over.
In His Love,
Jessica