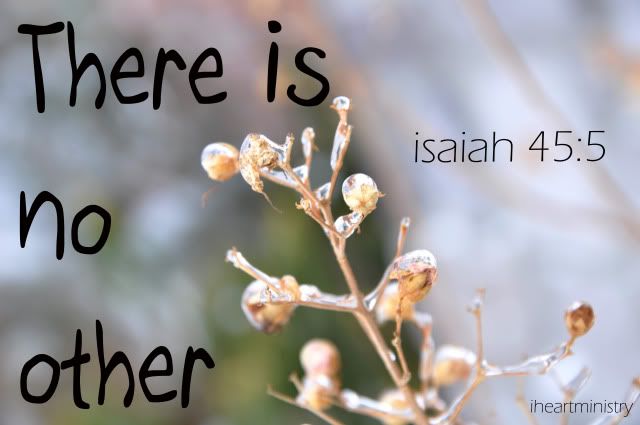 Isaiah 43:10-13
10
"You are my witnesses," declares the LORD,
"and my servant whom I have chosen,
so that you may know and believe me
and understand that I am he.
Before me no god was formed,
nor will there be one after me.
11
I, even I, am the LORD,
and apart from me there is no savior.
12
I have revealed and saved and proclaimed—
I, and not some foreign god among you.
You are my witnesses," declares the LORD, "that I am God.
13
Yes, and from ancient days I am he.
No one can deliver out of my hand.
When I act, who can reverse it?"


As I read through the book of Isaiah, there are multiple verses which talk about Israel's ignorance to the Lord in serving others gods. Throughout the Old Testament, it seems the trend was to constantly turn from the Lord because the grass seemed greener somewhere else. Over and over, God's holy, chosen people turned to man-made idols that did them no good.

Even now, there is a huge majority of people that serve false gods. People are so deceived by the devil, and have such a desire for some kind of leadership and reason for this world, that they turn to whatever they can find. It's sad to see people more devoted to someone that's been dead for hundreds of years than to the eternal, everlasting Savior, Jesus Christ. When I see our broken, searching world, it spurs me on and encourages me to take a stand for the Lord. It's easy for me to just get caught up in all the trivial business of everyday life, and put my real purpose and mission aside. I have to remind myself

daily

that I am not on this earth for no reason. I am here to share God's goodness with every single person I encounter.
I have to ask the Lord to fill me with love for the lost people around me that overcomes any fear I have of sharing my faith.
Perfect love drives out fear

. And if we really love our God, and really desire to share the incredible news of Christ, that fear will disappear and be replaced with a fiery passion to be living messenger to the lost, hopeless people in this world.


In His Love,
Jessica