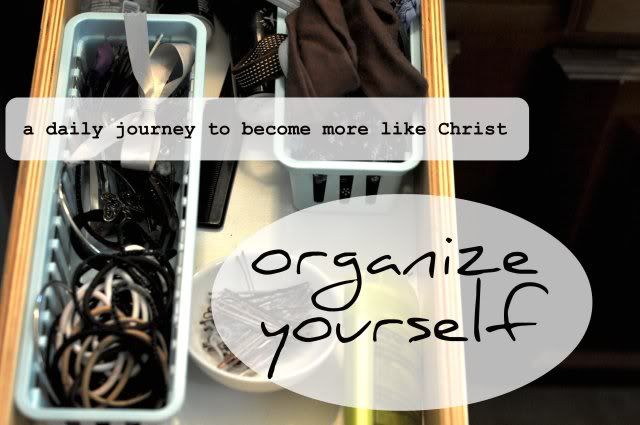 Last night, I attempted to re-organize the drawers in my bathroom. After accomplishing some of the easier projects, I began the daunting task of untangling the mass of necklaces I have acquired. After struggling for awhile to undo knots and loosen twists I got to thinking about how similar we are to those chains. We, as faulty humans, are a mess.
We sin, we make mistakes, and we become this knotted, tangled mess. Have you ever noticed how easily necklaces become tangled? They seem to become a messy heap even without our help. It takes much longer to untie and fix the damage than it does to cause it.
Just like those necklaces, it is much easier for us to sin and follow our own selfish desires than it is to live according to Christ. If we don't intentionally do the right thing, we automatically do the wrong thing. By doing nothing at all, we actually slide farther away from Christ.
James 2:26
As the body without the spirit is dead, so faith without deeds is dead.
Wow, what a wake up call! I can't just have my quiet time and then go throughout my day and without intentionally putting into practice what I read. Even though outwardly it may seem like I'm doing the right thing, inwardly I am not being transformed unless I am intentional about what I do.
To clean out my messy drawers, I had to take time to organize my clutter. Now, after everything is clean, I have to be intentional about where I put my things in order for everything to stay nice. Right now, I need to clean up my sin and the junk from my heart so that I can be effective and God can use me for good. Maybe you will spend some time this week cleaning and organizing your heart so you can be intentional for the Lord. Some of my favorite verses from 2 Timothy 2:20-21 say this,
"In a large house there are articles not only of gold and silver, but also of wood and clay; some are for noble purposes and some for ignoble. If a man cleanses himself from the latter, he will be an instrument for noble purposes, made holy, useful to the Master and prepared to do any good work."
Organizing and maintaining a fruitful relationship with Christ is a process. We are not perfect and unfortunately we still sin. But that doesn't mean we give up; rather, we daily get on our knees before God and ask for His help. We cannot change on our own. We cannot be intentional on our own. Only with the help of Almighty God can we daily become more like Christ.
In His Love,
Jessica