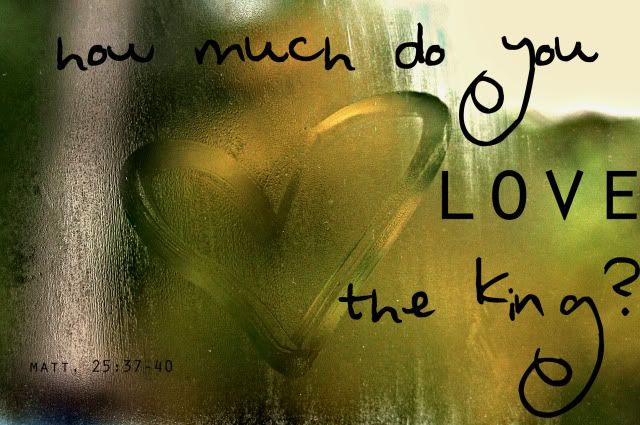 Matthew 25:37-40
"Then the righteous will answer him, 'Lord, when did we see you hungry and feed you, or thirsty and give you something to drink?
When did we see you a stranger and invite you in, or needing clothes and clothe you?
When did we see you sick or in prison and go to visit you?'
"The King will reply, 'Truly I tell you, whatever you did for one of the least of these brothers and sisters of mine, you did for me.'
Though we claim to love Christ, our King, our love for Him is truly expressed in how we treat other people. We can choose to look after our own desires, or humble ourselves, help the "least of these" and uplift those who are hurting. Befriending the seemingly weird, poor, or not so popular people is not going to be the cool thing to do. But God says that whatever we do for others, we are really doing for Him.
The question is, how much do you sincerely love the King? Would you be willing to give up your bedroom if He needed a place to rest? Would you be willing to give up your clothing? Your time? Of course you would. If God Almighty was standing right before us, none of us would let him sleep anywhere less than the best we had to offer. We would fix the finest food, give Him our nicest things, and attempt to serve Him in any way possible. Just as we would treat the King, we are to treat the least of these. The unloved, the rejected, the homeless, and the poverty-stricken. Serving those people is not the most glamorous thing to do, but how could we treat them with anything less than our very best?
In His Love,
Jessica